Mellowads is a banner and pop-under Bitcoin advertising platform reaching over 8.2 billion banner and pop-under impressions in a month.
What's Mellowads?
Mellowads is a Bitcoin adverting network which means you'll have to pay or get paid in Bitcoin. There are two types of roles you can have on the site: advertiser or publisher. The advertiser pays to advertise ads and the publisher gets paid for showing ads to their visitors.
I'll go further in detail for both roles.
Advertising
If you have a website or want to promote something you can start your adverting campaign today. You can start a campaign for 1 day starting from 1.000 satoshis. Feel free to deposit money you want to use or use their faucet.
A faucet?
Yes, Mellowads has a faucet where you will receive advertising credit every 24 hours. The amount varies but is most of the time 500 satoshis. If you're lucky you can even get 1.000 or 3.000 Satoshis.
Keep in mind, that these claims are not withdrawable! They are used to create network campaigns.
Create your first ad

Ready to launch your first ad? Once you're registered and you're on the dashboard page, click on the "Create New Advert" button. You will be asked to fill in some general information about your site which can be completed in under two minutes. Also, choose the sensitive categories that apply to your site.
Done with that? Now you need to wait, your advertisement must be approved by Mellowads. It usually takes some hours to complete.
Approved? That's good! Now let's go further!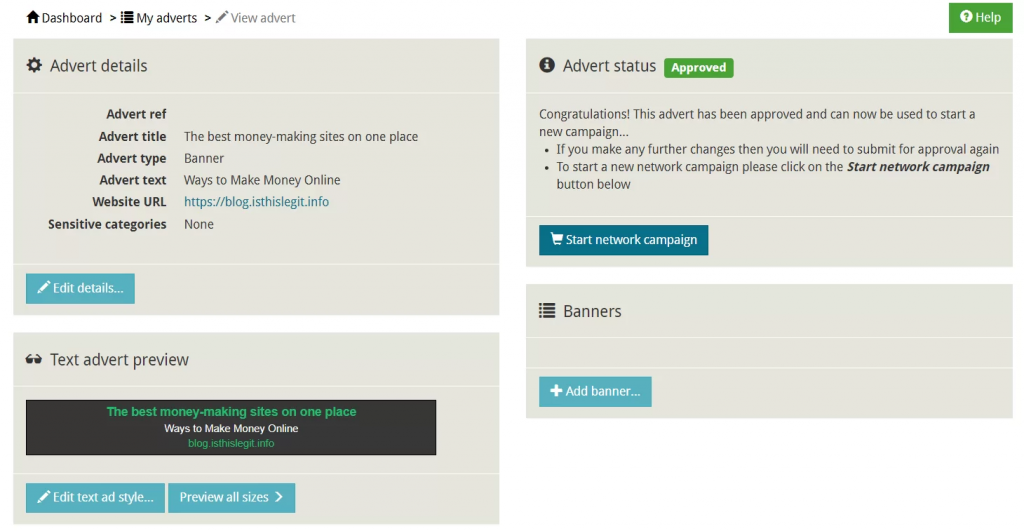 If you click on the "View advert" button you will see the image from above. If you have a banner, feel free to use that banner. If you don't have one, you can create a text ad for free. Just click on the "Edit text and style…" button and you're ready to customize your ad.
Also ready with styling your ad?
Start a campaign
Let's start your first campaign.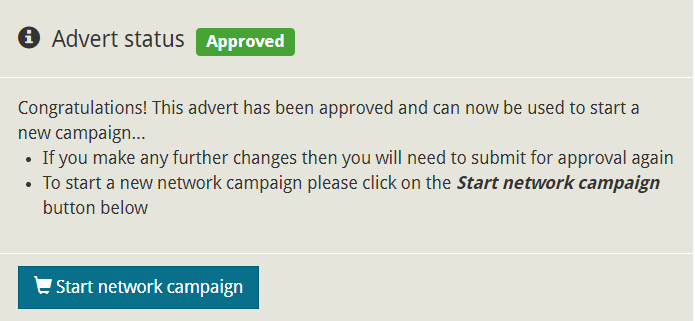 Hit the "Start Network Campaign" button. Now you'll get a popup with 3 different types of campaigns.
The first option is the Daily Campaign. This is a very simple concept, you pay how much you want to spend per day and the network calculates how many views/clicks you will get.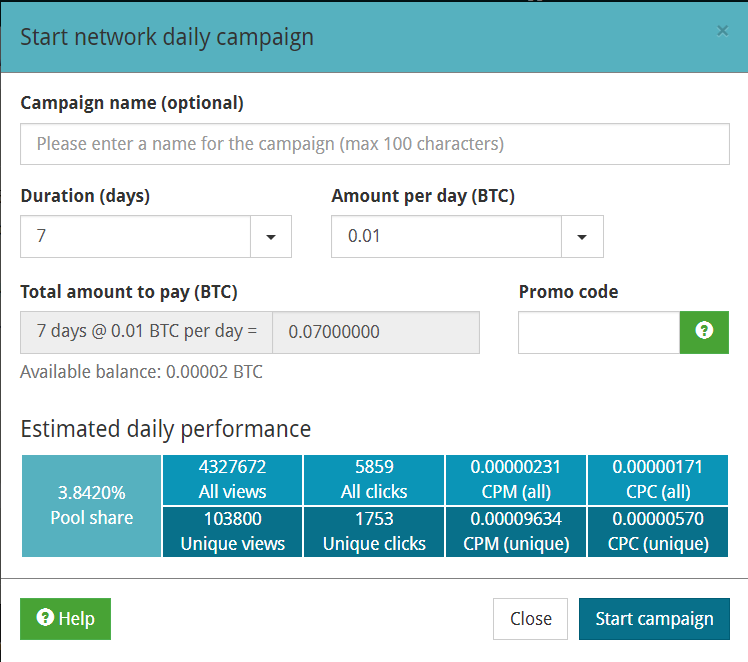 The second option is the CPM campaign. This campaign has geo-targeting which means you can target different countries instead of all countries. Here you will target unique views which means every person may only see your ad once.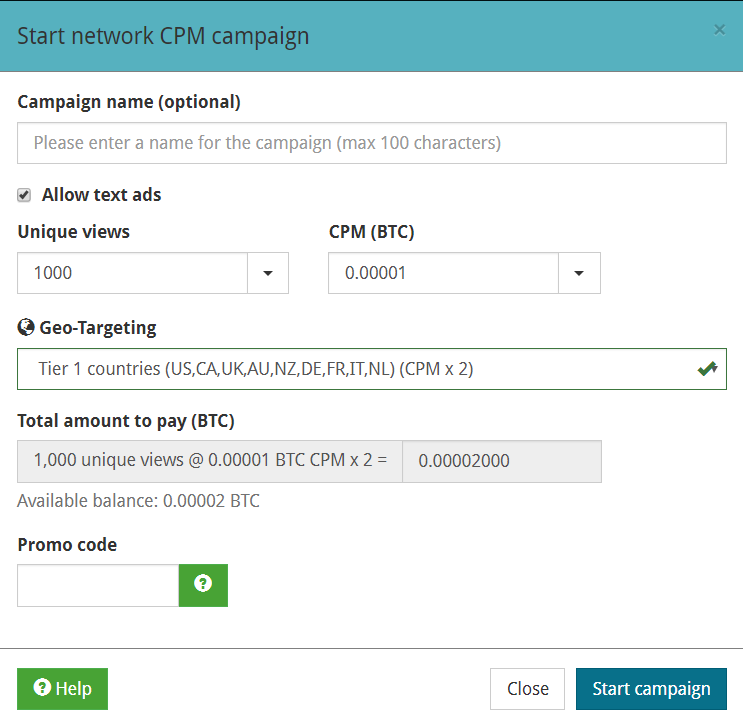 Have you made a decision? Now you're ready! Your ad will be live and you will see statistics showing up on your campaign dashboard.
We tried Advertising
We tried a daily campaign for one day for our website. We paid 1.000 satoshis for the campaign. Here are the results.

We can see from this campaign that we have targeted 5.203 unique views or 5.203 people and also 3 clicks on our ad.
We also learned the top 5 countries where our ad was shown: India, USA, Brazil, Russia, and Germany. The 3 clicks came from 3 different countries: Russia, Nigeria, and Pakistan.
Our conclusion
Our campaign did very well for a text ad and 1.000 Satoshis invested in it. It was only $0.07 that we invested. We also noticed the views were coming very quickly and popping up on our dashboard. We can say, it was worth doing it.
Publishing
Are you a site owner? You can make money by showing ads to visitors from your website. Fill in the Publisher form to get started. Keep in mind, that Mellowads has a very strict publisher program that only big sites can enter.
Your site must rank under 100.000 in the Alexa Rankings. This is the reason why many sites can't enter. If you have the same issue with this, feel free to use Mellowads' advertising network to promote your site.
Withdrawing your funds
Withdrawing is only for publishers as you can't withdraw adverting credit. There is a minimum withdrawal amount of 0.001 BTC and a fee of 0.0005 BTC.
Conclusion
Mellowads is a large Bitcoin Advertising network and is listed as a legit program. It has a faucet that you can use to advertise for free on the network. The downside is the high minimum requirement for publishers.