Allcoins is a faucet that supports over 13 different coins and pays directly to your wallet. Use their autofaucet, games, and offerwalls to increase your earnings.
How to earn on Allcoins?
Allcoins is a faucet where you can earn over 13 different coins. You can claim every 6 minutes from their faucet. There is also an autofaucet where you can claim by keeping the window open. You will receive 2 auto claims every day you log in. If you want more claims, you can get 4 claims for free every time you visit a link.
Also, mining can be done to earn extra, you can use their CMD miner where you need to download the miner and run it in your CMD. If you don't want to download anything, you are free to use their web miner provided by JSEcoin. Beware, mining uses your computer/phone resources only mine if you know what it does.
Playing games is also possible, you can play VegaDice, Harvest, and Bitcoin Puzzle. You can play by paying an amount you want to give and if you win, you'll get more. (gambling)
If you're not into the games, you can use their offerwall and PTC. They have 5 offerwalls that you can use to increase your earnings. All the earnings are paid in BTC don't worry you can exchange them for other coins. Keep in mind, that completing offers takes time to get rewarded when reaching a certain level, you will get the BTC faster.
The PTC part has 2 different types, Ads with 30 seconds and Ads with shortlinks. You will get paid 7 satoshis per view.
Exchange your coins

Have you collected coins you don't want? Don't worry! You can easily convert your coins into other coins without fees.
Levels
Every time you do something on the site you will get XP used to level up and get advantages.
1 XP per Faucet claim or referral claim
50 XP per offer on OfferWall
1 XP per Game Bet
2 XP per won on the chat Quiz
2 XP per 10 sats earned on Command Miner
and more XP on deposit, depending on the deposit amount.
For reaching a certain level, you will get rewarded.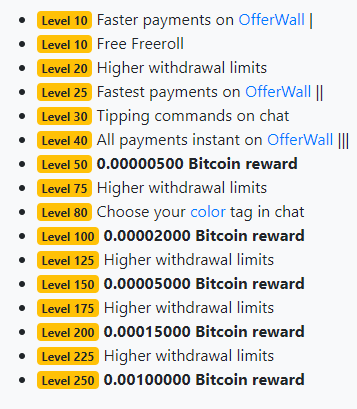 Referral program
Every referral that you referred to the site and claims from the faucet will get you a 25% commission. You can also use their banners to get more exposure.
Withdrawal
You can withdraw your earnings when you have reached the minimum requirements to cash out. This is very different for every coin for BTC you will need 10000 Satoshis.
Conclusion
Allcoins is a legit faucet, we have received a few payments from them. You can do many things on the site like mining, completing offers, and more. The only downside is the quite high withdrawal fee and the many popups.