FaucetCrypto is a faucet where you can earn by claiming, completing short links, and completing offers with direct withdrawals of 17 coins to your wallet.
How to earn on Faucetcrypto?

Not only claiming a faucet is the way you can earn coins on the site! You can also earn coins by completing short links, offers, and surveys.
Earning on the site can be done in different ways as I already told you before. The main way to earn and also the easiest one is by claiming the faucet. You can claim every 30 minutes and you will receive around 15 coins with a bonus. I'll, later on, explain what the coins are.
There are also 12 offerwalls where you can earn up to 25.000 coins per offer!
Coins?

You won't earn satoshis for the work you have done on the site however, you will still see how much your coins are worth in satoshis. You're asking now "What do those coins?".
The coins are there because you are free to choose which kind of crypto you would like to receive. So you will get in every crypto coin an amount that's equal to the coins you have earned. The coins are converted to satoshis at a variable rate.
You can choose between Bitcoin, Bitcoin Cash, Ethereum Classic, Dash, Digibyte, Dogecoin, Komodo, Litecoin, Solana, Reddcoin, Ravencoin, Syscoin, Tron, Horizon, and ZCash. I think you'll find at least one coin that you like here.
Extra's
Level up to unlock the chat (level 8 needed). How to earn XP? You will earn 10 XP for a normal task and 3 XP for a referral task.
Unlock challenges by completing faucet claims, earning coins, or reaching a specific level. You will get rewarded with coins or experience points.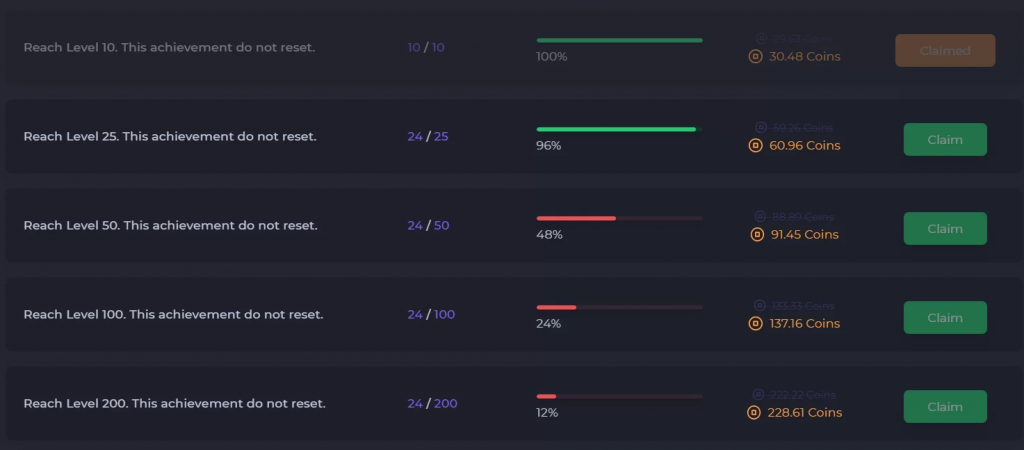 Levels
As I said before, you'll earn XP with everything that you do on the site. With the XP that you have earned, you will level up and receive higher boosts. Every time you level up, you will get a 0,125% bonus!
Items & marketplace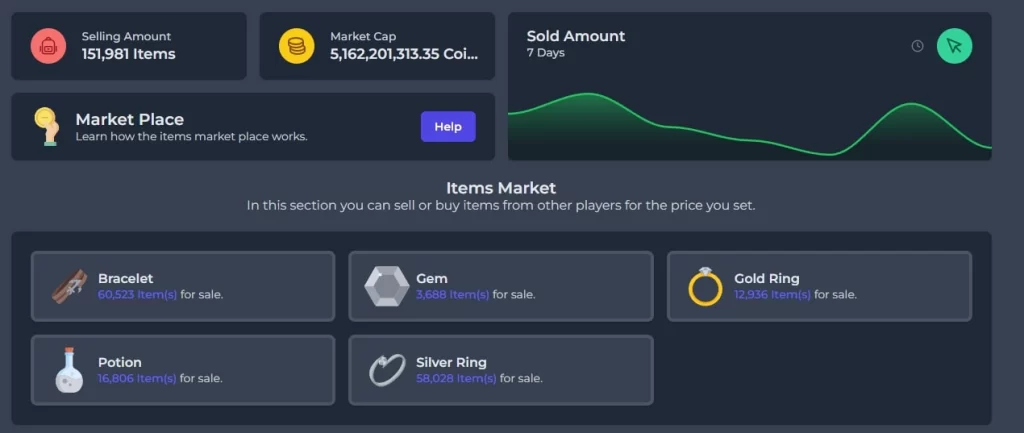 You can see items as stat boosters with different effects. There are bracelets, gems, gold rings, potions, and silver rings. Each of these items have 5 types of rarities: common, rare, epic, legendary, and mythic.
You can boost your commission, drop boost, experience points, multipliers, and timer. Every item has a different duration which is measured by the amount of tasks completed when the item is active.
There is also a marketplace where you can buy all these items. It can be difficult to receive a random drop from using the website. So, there is an easier way to obtain them.
You can not only buy items but also sell them, if you have an item that you won't use, you can list it on the marketplace to earn some coins for it. keep in mind, the marketplace is for all users so you will need a buyer for your items.
Referral program
You will earn a 20% commission on what your referrals make in coins paid to your account directly.
Withdraw

Withdrawing is very fast and you can choose what coin you would like to receive due to the coins (on-site currency) you have earned. Withdrawals are directly made to your wallet within a few seconds to 1 hour in some cases.
(Withdrawals to FaucetHub are no longer supported since November the 29th)
Conclusion
FaucetCrypto is a legit faucet that pays directly to your wallet. You can choose which coins you want to cash out and they are using a smart captcha solution so you won't need to complete it every time.