Get free Horizon (ZEN) by claiming from this faucet every 20 hours.
How to earn on GetZen?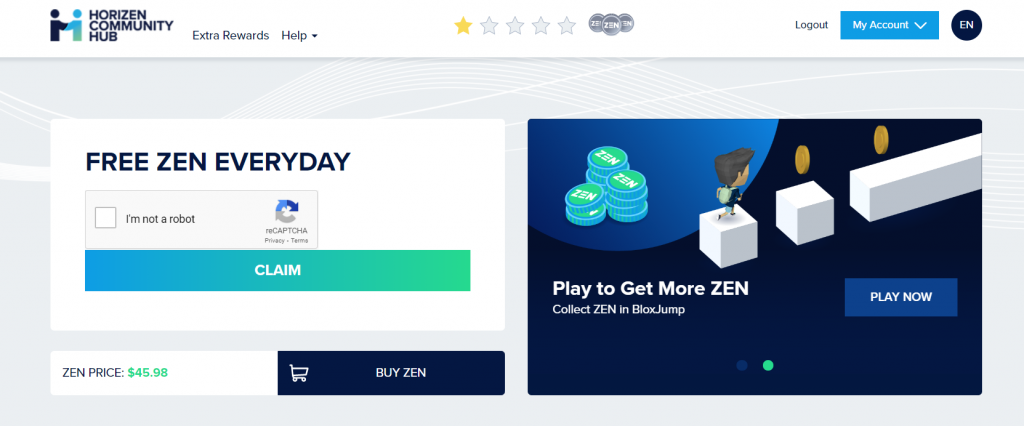 Earning is very simple and you can get bonuses!
You will only need a ZEN address to start claiming right away. They have a free wallet for you to use (software). You can claim from the faucet every 20 hours and you will get bonuses.
If you don't have a ZEN (Horizon) address, you can download their wallet to receive a bonus of 1.5x.
Bonuses
There are a lot of bonuses! First of all, the daily claim bonus. There are rewards for claiming 6 days in a row starting with:
| Day | Bonus |
| --- | --- |
| 1 | No Bonus |
| 2 | 1.2x |
| 3 | 1.4x |
| 4 | 1.6x |
| 5 | 1.8x + Bonus round (win up to 0.02 ZEN) |
| 6 | 2x |

Social media bonus
You'll even get a bonus by connecting your social media accounts. You can connect up to 4 social media accounts and earn a 1.9x bonus on your claims. Also, use Brave Browser to earn an additional 20% bonus.

HODL Bonus

Get rewarded for HODLing! Make sure to verify your ZEN address to earn rewards based on how much ZEN you HODL. You can earn up to 3x by HODLing 10 ZEN.
Referrals

GetZen works with a 4 level referral system.
This means that if you refer someone, you'll earn 20% of their earnings and the referrals from your referral will earn you 10% then their referrals will earn you 5% and theirs 3%.
This amount can be huge if you have a few people registered.
Conclusion
Getzen is a ZEN faucet, which rewards its users with many bonuses and extras. We tested this faucet in the past and received our payments.