Moonbit.co.in is a Bitcoin faucet that gives you Bitcoins by claiming every now and then. It is part of the Moon Faucets, which are high-paying faucets.
MoonBitcoin is shutting down
CoinPot and 7 partner faucets will close on the 28th of February 2021.
How to earn?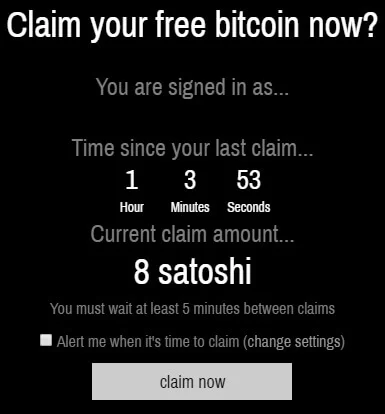 Like every other faucet, you can claim a certain amount of coins depending on different bonuses and how long your latest claim was. You can claim every 5 minutes without any restrictions, you can claim as much as you want every day.
Did you say bonuses?
Yes! Moonbitcoin has 4 bonuses: Daily Loyalty Bonus, Referral Bonus, Offer Bonus, and Mystery Bonus. You can earn up to 400% more with all the bonuses! Let's take a look at the bonuses.
Daily Loyalty Bonus
Earn an additional bonus by claiming every consecutive day at least once. In other words, you will earn everyday 1% bonus on the daily loyalty bonus. This amount stops when you have reached 100%, don't worry the 100% won't be gone! You will keep going further with the 100% bonus.
Referral Bonus
Like the name says, you will get an extra bonus by referring your friends. You will earn a lifetime 50% commission from their claims plus 1% for each active referral. So they need to claim at least once in 72 hours. This percentage goes up until it reaches 100%. You will also keep this percentage if your referrals stay active!
Offer Bonus
You will receive an extra 5% bonus by completing an offer that stays active for 30 days. You will also receive extra coins for completing the offer. Like the other bonuses, you can't go higher than 100%.
Mystery Bonus
There isn't much info about this bonus. The only thing I can say about it is that it is very random. Most of the time this bonus is very low when you have a 100% daily bonus.
Withdraw
Every time you make a claim, your funds get stored in your CoinPot Account. From there you can convert and cash out your earnings and get them within 48 hours.
Conclusion
Moonbitcoin is a legit faucet that's part of the Moon Faucets which are trusted and high-paying faucets. We highly recommend this faucet due to the high-paying payouts and the functionality that CoinPot offers.