FaucetPay is one of the biggest cryptocurrency microwallet that supports 13 different coins.
What's FaucetPay?

FaucetPay is a microwallet, it's a small wallet that accepts microtransactions from faucets and stores them in one central place. When you have reached their minimum payout, you're free to cash out your earnings to your wallet.
Why use a microwallet?
Well, if you're using faucets to collect crypto, you know that the amount you get is meager. The faucet owner can't send that amount to your wallet because it is too low and the fees are too high. So you need a microwallet where you can store your earnings temporarily and then when you have collected a certain amount, you can send it to your wallet. It's not advised to keep your funds in a microwallet! Store your funds in a wallet!
How to use FaucetPay?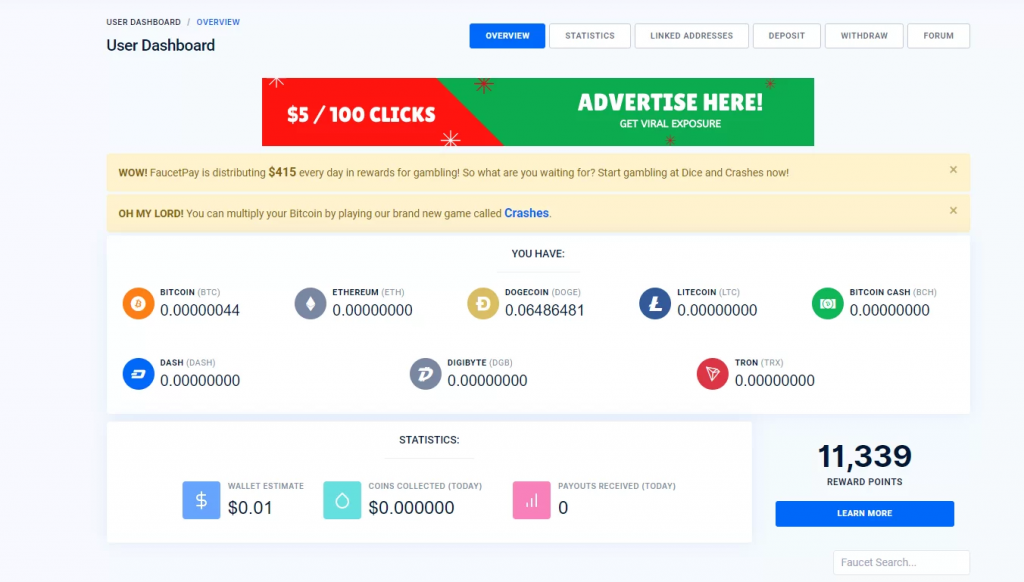 Using faucetpay is very simple.
First of all, let's add your coin addresses. Currently, it supports 13 different coins (Bitcoin, Ethereum, Litecoin, Dogecoin, Dash, Digibyte, Bitcoin Cash, Solana, Binance Coin, Feyorra, Zcash, Tether (ERC20), and Tron).
Let's add your addresses. Click on your profile icon in the right upper corner. Then, click on the "Linked Addresses" menu.
You will see a page like this.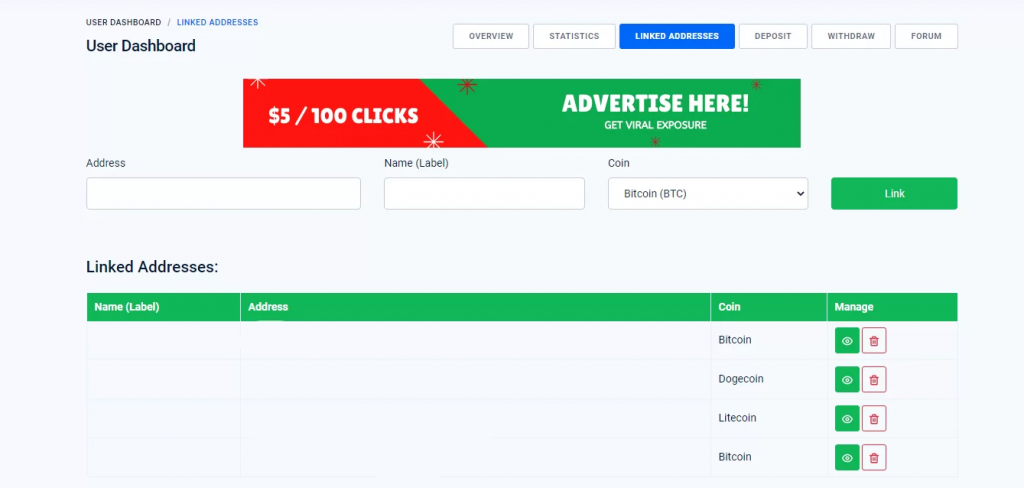 In the Address field, enter the address of the coin you want and select it from the menu. If you've done this then you're ready to start earning.
Earn with FaucetPay
You can earn in different ways, but the most common way is to use their list of supported faucets. There are also ways to earn on the site itself.
Offerwall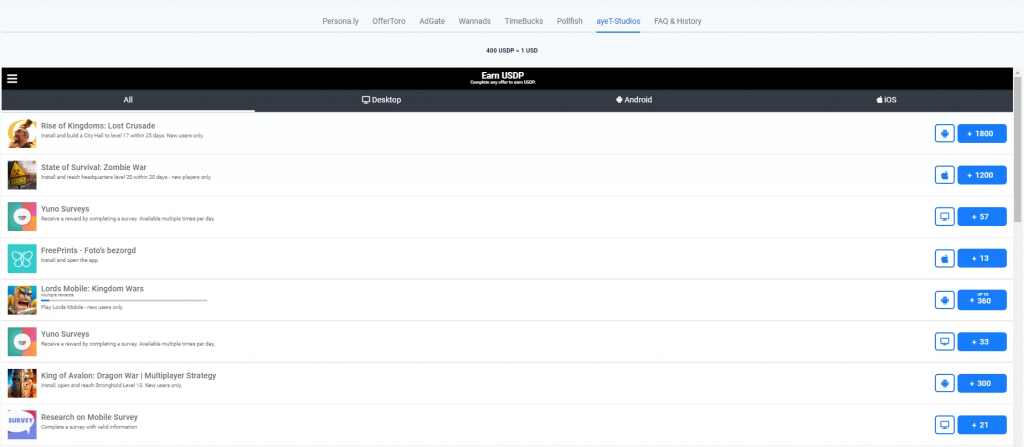 You can complete offers/surveys and download apps to receive USDP (FaucetPay currency for the offerwall). Currently, 400 USDP is equal to $1.
There are 7 different offerwalls so enough ways to earn!
Paid to Click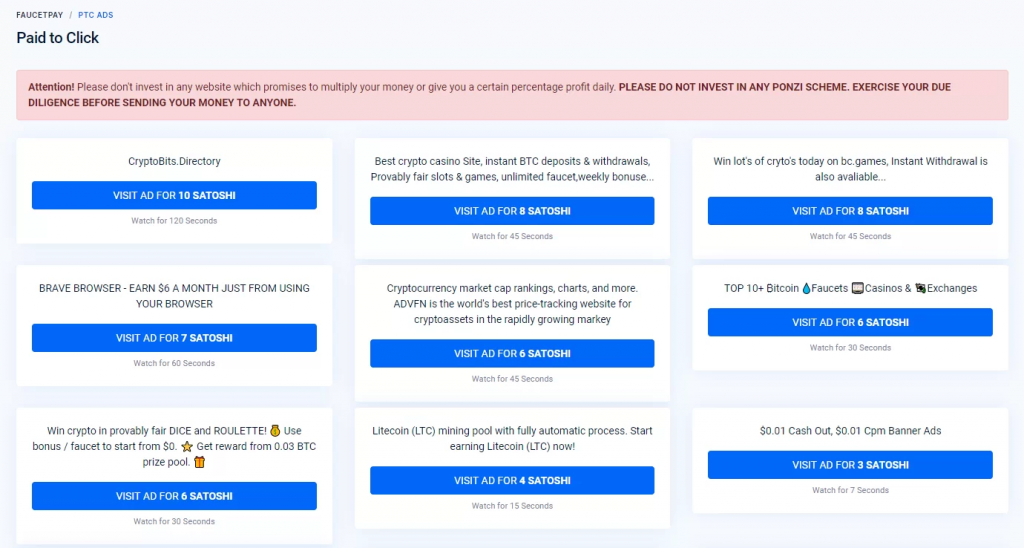 If you don't like offerwalls, why not give the PTC option a try? This option is filled with ads from users (you can create your own). You will get rewarded in Bitcoin for viewing sites for a few seconds.
FEY staking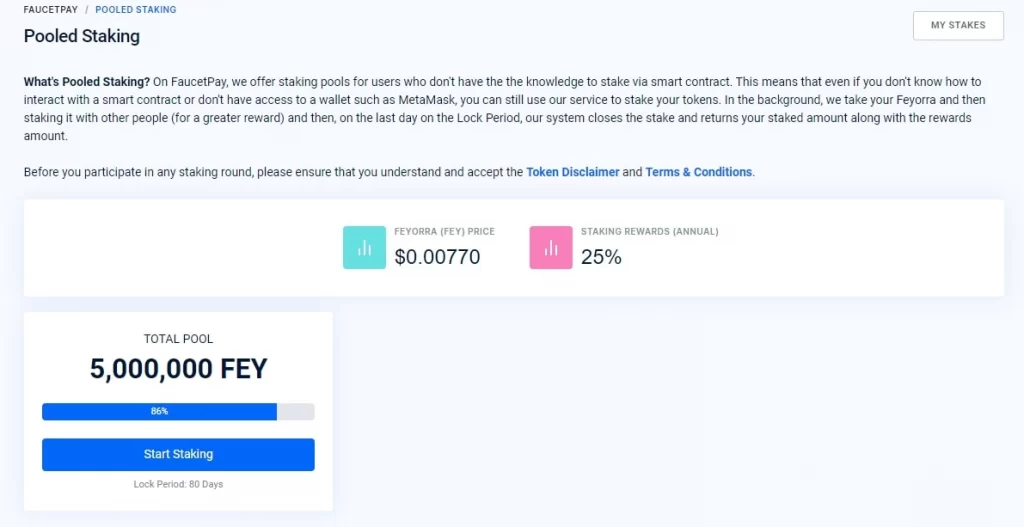 You can earn Feyorra (FEY) from faucets or you can buy it from an supported exchange.
Staking goes in batches of about 5 million tokens per batch, users can stake all their FEY for 80 days and earn 25% on it. This doesn't mean that you need 5 million tokens, you can start staking for as little as 1 FEY. The process goes automatically.
Keep in mind, that your funds will be locked. You can do an emergency un-stake if you need your coins back but there is a 3% penalty on your staked coins.
Games
FaucetPay has some games that you can play to increase your earnings.
Dice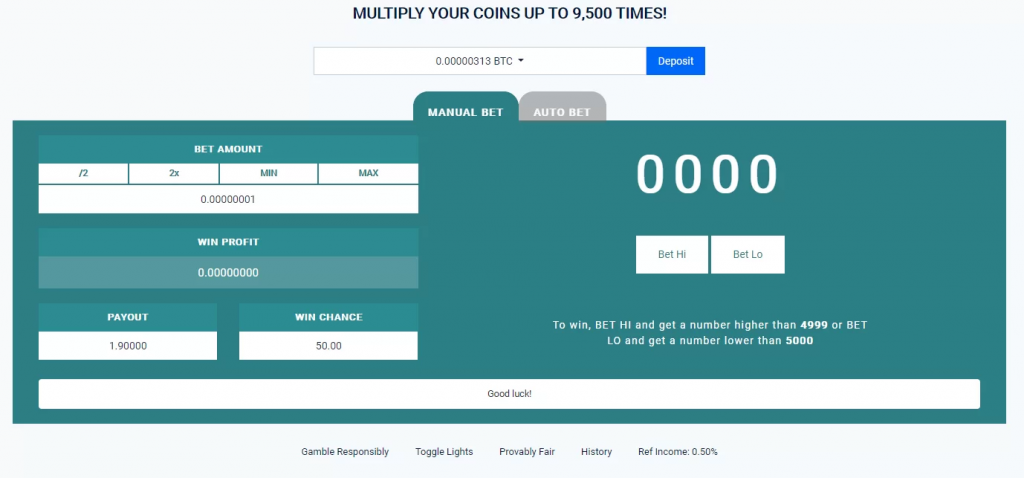 A game where you can multiply your earnings by betting "High" or "Low". There is a 50% win chance and an auto bet option.
Crashes

This game may seem a bit confusing, but it works as follows. The game starts a new round and a line will go higher. This line represents the multiplier amount, this amount rises but can suddenly "Crash".
The goal is to cash out your earnings before it "crashes", when it does, you will lose your bet.
Roulette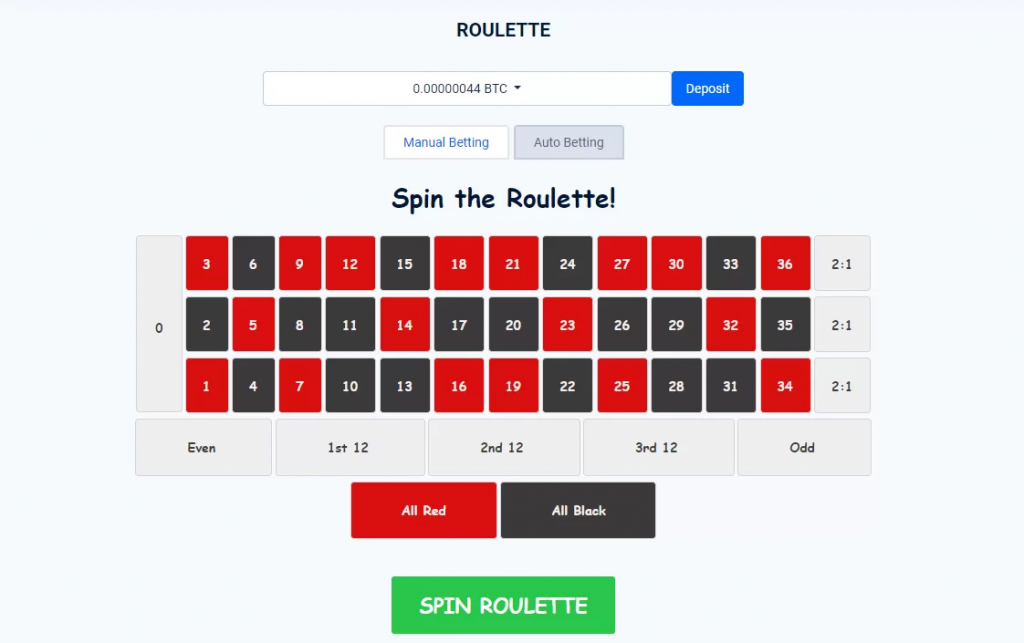 The last game is roulette.
Here you will need to bet on "All red" or "all black". You will need to set a bet on certain numbers to earn a higher multiplier.
Trade (Coin Swap)

You can even exchange your coins for the one(s) you are collecting.
Create your own faucet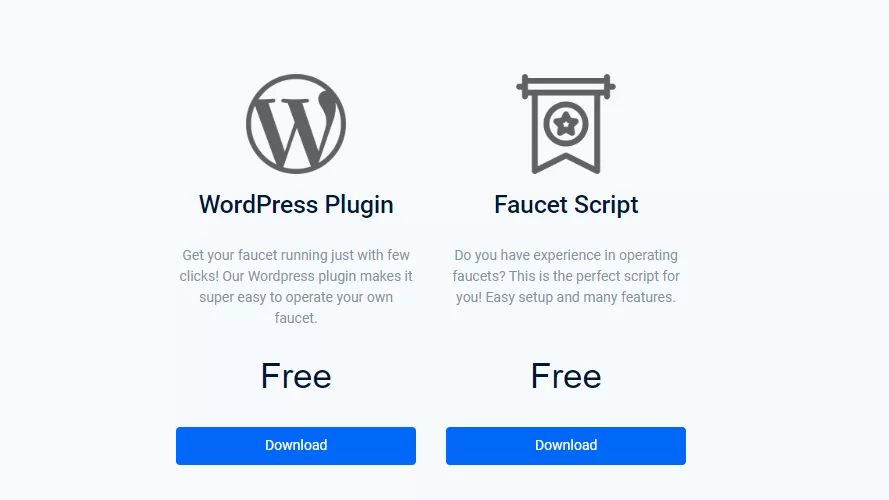 Have you ever wanted to create your own crypto faucet? Well, FaucetPay has made it easier for you! Use their free script that's available for WordPress and a PHP version.
You can find the script under "API" and then "Faucet scripts".
Referral program
There is a referral program that rewards you for games, exchanges, offerwall tasks, and PTC uses from your referrals.
Withdrawals and fees
There are 2 options for withdrawals. The normal withdrawal will take around 4 hours to complete and has only the normal fees.
The priority withdrawal is completed within 5 minutes but you'll have to pay a higher fee.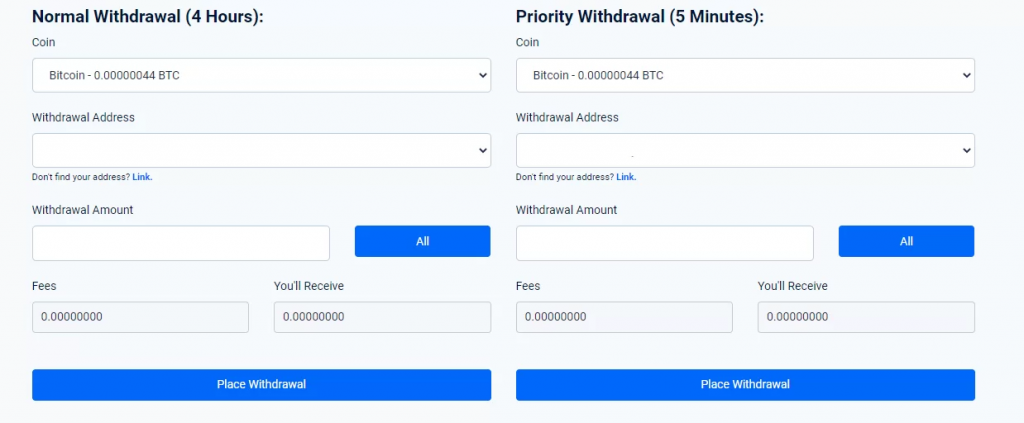 The nice thing about FaucetPay is that the fees do not change if you have collected a higher amount of coins.
Have you used FaucetPay?