Earn Litecoin by completing shortlinks, mining, PTC, and much more. Withdraw your earnings in seconds to your favorite payment processor.
How to earn on Litecoinads?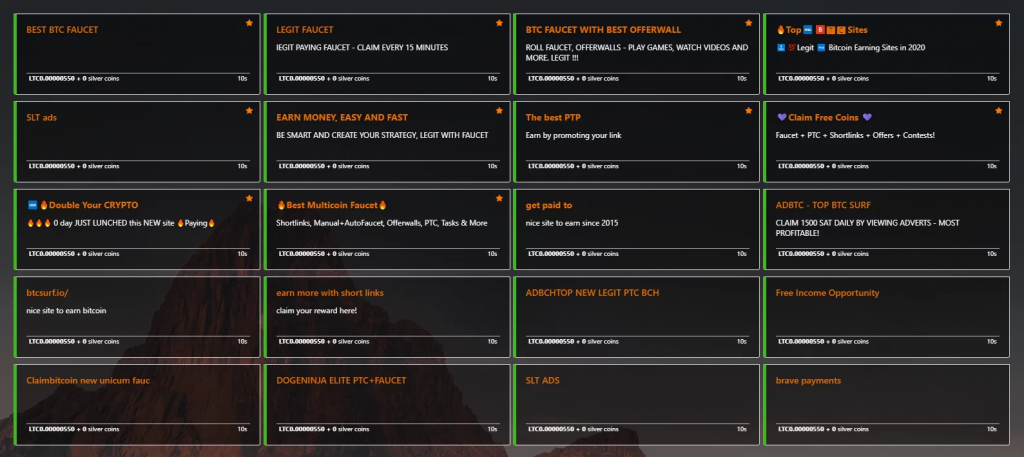 Litecoinads has a wide variety of ways to earn some Litoshis. You can complete CPA/GPT offers when they are available but also a paid to click (around 550 Litoshis per click). Also, the well-known offerwalls and mining are ways to earn on the site.
If you're more into completing shortlinks, no problem! There are short links available to collect. The option "mining share" allows you to mine using your browser, this service is provided by JSEcoin.
Advertise on Litecoinads
You can earn on the site but also promote your website. There are some options available to use like banners, PTC ads, surf ads, and more.
Games
There are also some games available to play like a dice game, jackpot, and contests.
If you want to play the jackpot, you will need to buy some tickets. One ticket will cost you 0.00000100 Litecoin and you can win up to 0.0500000 Litecoin.
There is a referral contest where the top 3 referrers will get rewarded for their work. If you're first you can win up to 0.25000000 Litecoin!
Referral program
There is a referral program available but we couldn't find the percentage you will get from referrals since this is not written on the site.
You can also rent referrals with a maximum of 50 rented referrals. Rent up to 50 referrals at once for 0.0500000 Litecoin for 30 days. Every referral has guaranteed clicked on an ad in the last 2 days. Keep in mind, that rented referrals can be profitable but there is a small chance!
Account upgrades

There are 3 account plans, Free user, Active user, and Premium user. Like the name already says the "free user" is free and standard when you register.
If you want to become an "active user" you will need to pay 0.00150000 Litecoin for 30 days. You will get some advantages as the double amount from the PTC wall and referral activity.
If you want to become a "premium user" you will need to pay 0.02500000 Litecoin for 30 days. There are also some more advantages! You will get 5000 Litoshis per PTC click and 300 Litoshis per referral activity.
Keep in mind, only invest what you can afford to lose!
Withdrawals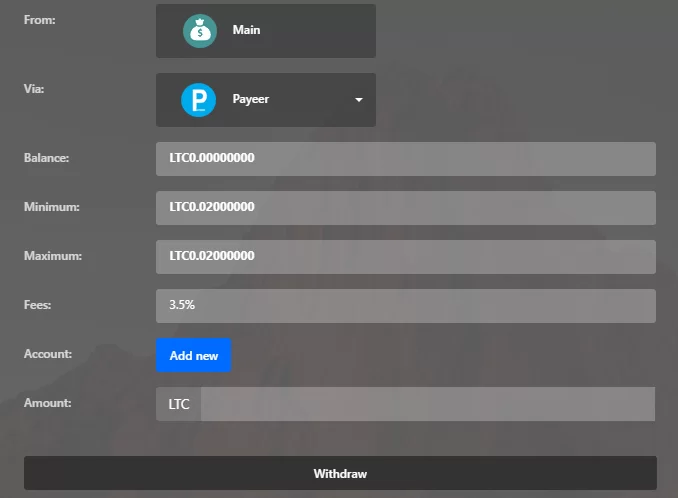 You can withdraw to 5 payment processors: Payeer, FaucetPay, WalCrypt, CoinPayments, and JSEcoin.
Payments are usually done within a few minutes from requesting. We received two payments on our FaucetPay account and those were directly sent to us.
Conclusion
LitecoinAds is listed as a scam site after paying users for a few months, the owner decided to block users for cashing out their earnings. This owner has also other sites under his management, stay safe!