Start earning passive income by mining crypto from your smartphone.
Update
It looks like Miny does no longer exist.
How to earn on Miny?
Miny is a crypto mining platform where users join mining pools and earn passive income. You can easily start earning in 4 steps.
Step 1: Create your wallet
Head over to Miny.cc and create an account.
Step 2: Backup your wallet
This is an important step, never lose your backup phrase! Download it from the security page under your profile. It will be a Private key and a 12-word backup phrase.

Step 3: Top up your account
You can deposit Bitcoin, Ethereum, and Litecoin.
Step 4: Join a mining pool
After a successful deposit, you're set to start assigning your funds to a mining pool to start earning.
Features
Levels
By completing tasks on the site, you'll get XP and level up. The level system is used as reputation, the more XP, the more reputation and rewards!

Daily bonus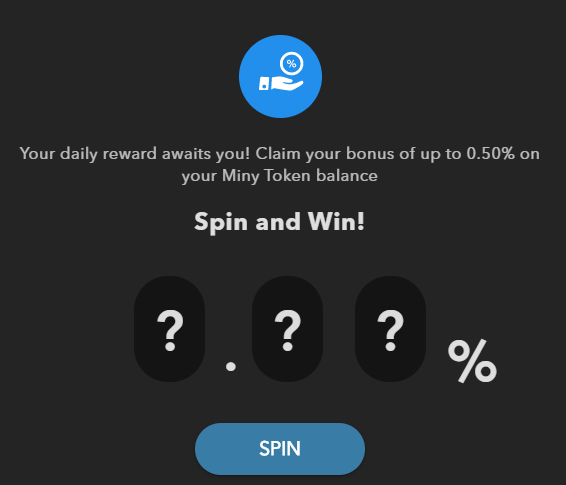 Spin every day and win up to 0.50% on your Miny Token balance.
Referral program
Miny has a big referral program with up to 20 lines.
This seems like a pyramid scheme. Please watch out when investing in this program.
Conclusion
Miny seems like a good company as it's reviewed on many big websites like Yahoo, Forbes, Bloomberg, and CCN. However, we see a pyramid scheme in the referral program, and its payouts percentage is very high. (10-19% per month)
Update: Miny is offline.