AdBTC is a PTC (Paid To Click) program that pays its users in Bitcoins. You'll get a few Satoshis for viewing advertisements. The website itself is already in business for a few years. Let's find more out!
How to earn?
Earning is very simple because AdBTC is a PTC program. You will get satoshis for viewing ads and the amount you will get depends on how long you'll need to view the ad and of course how much the advertiser paid for it. You can easily find ads that pay 60+ satoshis for a 1-minute view.
There are 3 types of viewing on the website: Surf ads, Active window surfing, and auto surfing. You'll be asking, "what's the difference?". Well, Surf ads are just surfing ads without being on the same page. Those ads open a new window with the advertiser's website. Compared to Active window surfing where you need to stay on the window from AdBTC. Autosurfing says it already, it surfs automatically and it doesn't require you to stay on the page.
Rating System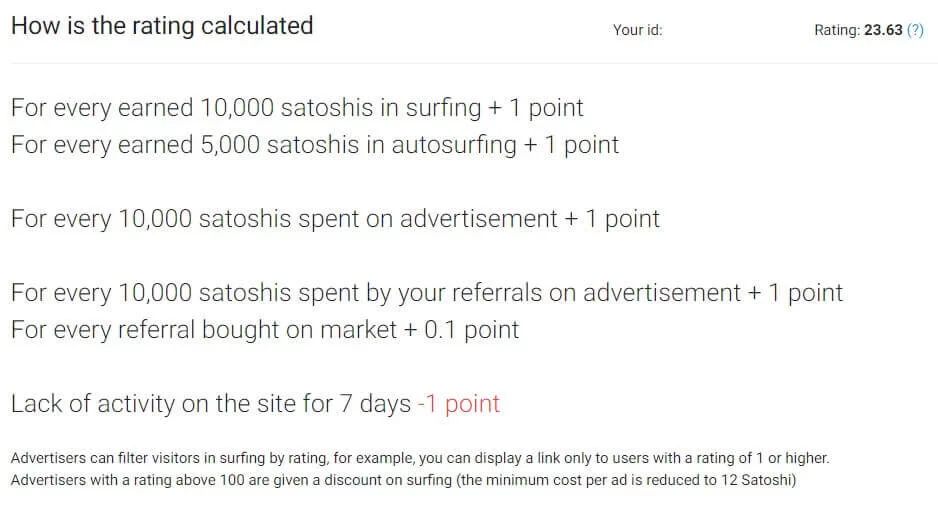 A rating system? For what is it used? Rating points are used to find more active users, this is an option for advertisers to show ads only to users with a certain amount of points. Advertisers who have more than 100 points will get a discount on surfing! (min. cost per ad is reduced to 12 Satoshis)
How to earn points?
Earning points is very simple! You just need to be active on the site and keep surfing ads and/or advertise your website(s).
As an earner, you will get every 10.000 Satoshis surfed, 1 point and when you've earned 5.000 Satoshis in auto surfing you'll also receive 1 point.
As an advertiser, you will get 1 point when you've sent 10.000 Satoshis on advertising.
If you have bought a referral you will receive 0.1 points. Referrals can be bought on the market, it's not guaranteed that you will make some extra satoshis from them.
Watch out! You can also lose points! You will lose 1 point when you have a lack of activity on the site for 7 days. So keep surfing at least one time per week to keep your points.
Referral Program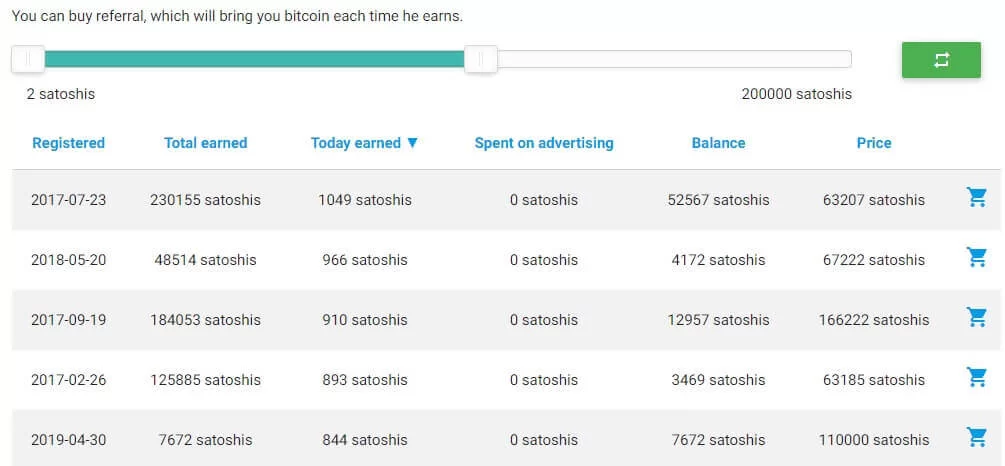 There is a referral program that pays you 10% of the surfed ads from your referral and 5% of what they spend on advertising. You can also sell or buy referrals in the Referral Market Tab.
Withdraw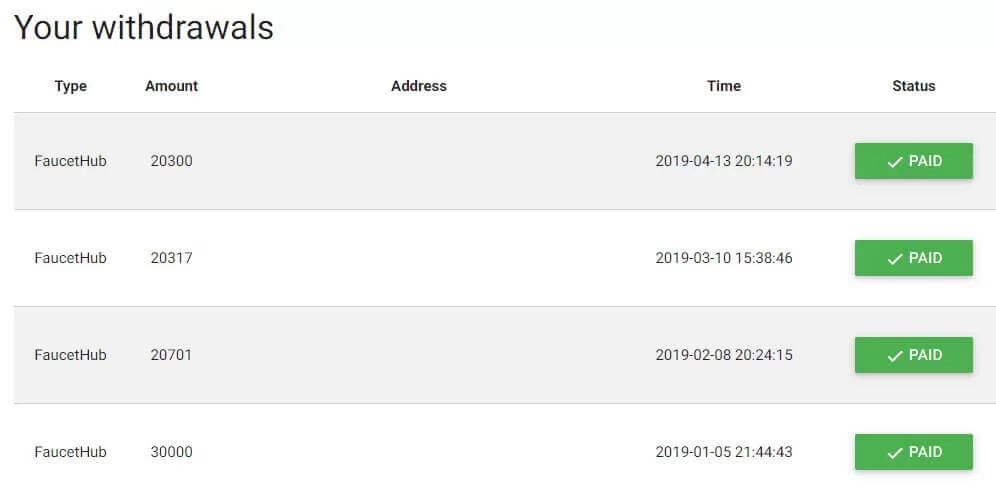 AdBTC pays within 3 business days in Bitcoins so, you will need a Bitcoin Wallet.
There are also 2 ways that you can do with your earned Satoshis. You can Cash them out to your Bitcoin Wallet. If you would like to advertise, you can easily move your balance to your advertising balance. You can't undo this! There is a min. amount of 20.000 Satoshis to cash out to your Bitcoin Wallet. If you're a FaucetPay user, you can now withdraw your earnings right to FaucetPay!
Advertise on AdBTC
You can also advertise your own site and use your earned Satoshis for advertising. You can choose the 3 types of advertisements and the amount you want to pay the users. You will need a budget to keep your ad alive, we tried it with 1 AD and a budget of 1200 satoshis and our ad credit was all used within 5 minutes of launching the AD.
Conclusion
AdBTC is a legit PTC site and has been paying users for a few years now. It is also one of the better Bitcoin PTC sites in terms of many advertisements and its own captcha solution. So no annoying captchas, just a simple math question every now and then.